Living well. Gluten-free.
Whether you're here by choice or out of necessity, my goal is to provide you with the skills and abilities
-- (and, of course,the recipes!) -- that will allow you to live well gluten-free.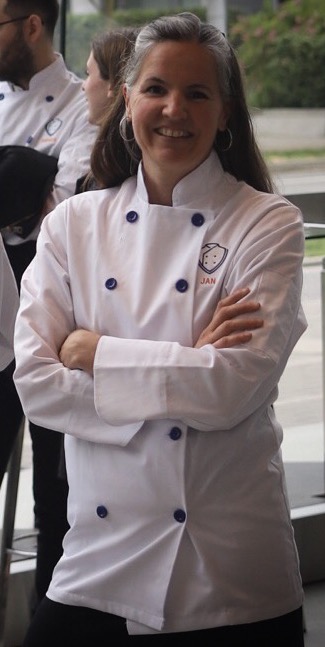 My name is Jan Steele, aka « La Goose »
Coming to you from my actual, physical Teaching Kitchen in the South of France, I will be your cooking instructor.
On completion of cooking school in Vancouver (Canada) in 2018, I relocated to the beautiful Cévenne mountains with my family where, in our home by the river, I teach people to adopt or better adhere to a gluten-free, Paleo, or AIP diet.
I have been living gluten-free since I was 4 years old, when I was diagnosed with Celiac Disease. Back then, gluten-free baking and pastry was largely based on trial and error. Today, though there are ever more products available for purchase in stores, few are of any quality, and the lifestyle still remains too much a mystery.
But that need not be the case! It is possible to live well, gluten-free. (...even in France, where the almighty baguettte reigns strong! )
I am a graduate of the Pacific Institute of Culinary Arts, the Nutritional Therapy Association, and the AIP Certified Coach programme.
I would like to help you live well, gluten-free.
(My two children also follow a gluten-free diet, so if you're here as a result of a child who is newly-diagnosed with a sensitivity or intolerance to gluten, I'm your gal!)